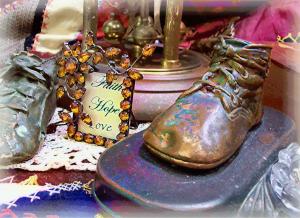 Recently, I rediscovered some images on my external hard drive. I had previously published them as nostalgic greeting cards but it was so long ago that I had forgotten about them.

These vignettes were small, still-life compositions that I staged on my kitchen counter and are proof that searching out treasured memorabilia can document a family's legacy forever. Siblings' bronzed baby shoes, a grandmother's bracelet with her boys' profile charms, a father's clock, and an antique doilie were all fixed atop their matriarch's handmade crazy-quilt.

Since their original captures, Photoshop's Creative Cloud has wet my appetite for experimenting with filters that enhance the vintage qualities of these photographs.

So, when your creative time is limited, search out some files in those buried folders and bring new things to life. Just don't forget to have fun while you run down memory lane!